Staging Realtors Really Work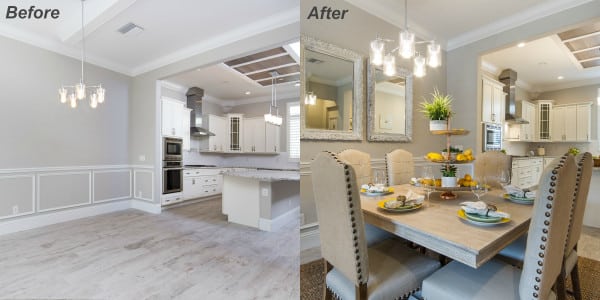 Statistics Prove That Staging Realtors Really Work –
Many homeowners in Orlando, Longwood, Lake Mary and the rest of Central Florida who are planning on placing their houses on the market have asked the same question: Does using a staging realtor really make a difference? To help decide, let's consider the following facts:
– According to a study released by the NAR (The National Association of Realtors) just under half of all realtors (49%) believe that staging a home or house for sale has a "profound" effect on the buyer's view of the home.
– A very small percentage of realtors (4%) stated that staging a house or home for sale has very little impact on a buyer's perceptions.
– Over 80% percent said staging the house helps buyers to be able to visualize the house as a future home that they can live in.
– Over 45% percent said it definitely makes prospective buyers more willing to walk through a house for sale that they initially saw online.
– Again, over 45% stated that a house or a home decorated to a buyer's tastes increased its selling value.
Why Not Stage Your Home or House For Sale?
The study released by the NAR also noted several other interesting results:
– Only one out of three realtors stage all their homes listed for sale (34%). As few as 13% stage only houses and homes that they feel are "difficult to sell" and as few as 4% only staged "higher priced" homes.
– The living room was the number one room to stage. The staged living room was followed by the kitchen, master bedroom, dining room and then the bathrooms. This is why staging is a process and requires a qualified, experienced and reputable staging realtor.
– Staged homes sold faster and for more!
This was something that realtors who represented the seller and that realtors who represented the buyer both agreed on. In fact 22% of realtors representing the home sellers and 16% of realtors representing the home buyers said the increase in the sale value was about 10%.
The other fact that was agreed on by all was that staging a home for sale can reduce the time the home is on the market by one-third to one-half.
Contact Lynda Today!
Is your home not selling? Not getting what you feel your home is worth? Other houses in your area sold quickly and for more? Call Lynda today at (407) 620-2924 or contact her Online now. Find out why Linda was selected as one of Orlando's Top 100 Realtors by Orlando Magazine for 2017. Let Lynda help you sell your home faster and for more, as she's done for so many other satisfied home owners. There is a difference in Central Florida's realtors and Lynda truly is a Real Estate All-Star Agent! Working with Lynda Miller can give you the advantage you need when buying or selling a house in the Orlando and Central Florida real estate market.